Summer & Fall 2023
9/28-30: La radio del nuevo siglo encuentro sin fronteras/ The radio of the new century meeting without borders, Montevideo, Uruguay, sharing a lecture-performance: "Re-Imagining the Radio Station"

9/13: Open Lecture, "Distance, Oceans, Cables, Wireless" at Bergen Arkitekthøgskole (Bergen Architecture School.) Invited by Dr. Nancy Couling's masters course, "Explorations in Ocean Space V: Listening to the Barents Region"

8/31: "Seijo and her Soul," radio art commission for Lumpen Station, an radio art station in Switzerland

8/17-28: Shortwave Collective joins Struer Tracks Biennial for Sound and Listening in Struer, Denmark for a Bang & Olufsen residency followed by our four-day process-based thinking, learning and creating installation, the Living Radio Lab.

7/26-30: Participating in Radio Free Pyrenees in Aulus-les-Bains, France at Campfr.
---
Winter & Spring 2023
4/30: A special Radio Multe performance with Sara Gebran and her performative text Quantum Society. Also featuring Kjersti Sundland, Sidsel Christensen and me as collaborators.

2/23: Radio Multe live broadcast with members of Radio Pata, a station based in Cluj-Napoca, Romania. Radio Pata will be in Bergen at the invitation of BIT Teatergarasjen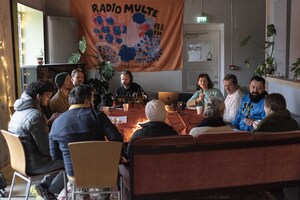 photo by Siavash Kheirkhah

2/22-24: Radio BAS, a non-extractive Radio Station cross-course workshop at Bergen Architecture School, part of their Big Wonderful Experiment towards design that does not extract or deplete materially, socially or culturally.

2/6-21: Residency at Bergen Senter for Elektronisk Kunst, Bergen NO