Summer & Fall 2023
12/12: "Seijo and her Soul," 8-month durational performance in Bergen begins with the new moon

11/30: "re- radio" performance-transmission, on Radio Multe 93.8FM and streaming at Radio Multe, a workshop broadcast event for the International Community Radio Network (ICRN) 18.00 CET

11/27: "re- radio" performance-transmission, Monday Lectures program, Knut Knaus Auditorium, Faculty of Art, Music and Design, Bergen, 10.00 CET

11/23: "re- radio" performance-transmission in honor of Ricarda Denzer's

ganz ohr/all ears book launch, Blickle Kino, Belvedere Museum, Vienna, 18.00 CET


10/25: External reviewer, alongside Geir Tore Holm and David Rios, for Nancy Couling's "Explorations in Ocean Space V: Listening to the Barents Region" at Bergen Architecture School

9/13: Open Lecture, "Distance, Oceans, Cables, Wireless" at Bergen Arkitekthøgskole (Bergen Architecture School.) Invited by Dr. Nancy Couling's masters course, "Explorations in Ocean Space V: Listening to the Barents Region"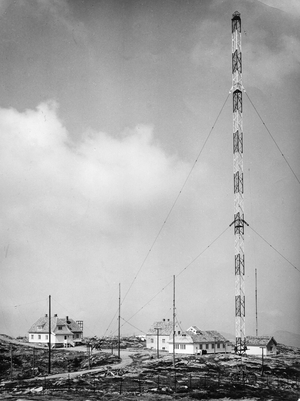 8/17-28: Shortwave Collective joins Struer Tracks Biennial for Sound and Listening in Struer, Denmark for a Bang & Olufsen residency followed by our four-day process-based thinking, learning and creating installation, the Living Radio Lab.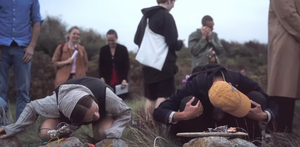 7/26-30: Participating in Radio Free Pyrenees in Aulus-les-Bains, France at Campfr.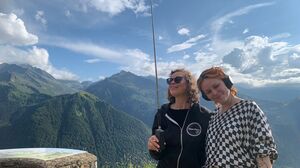 ---
Winter & Spring 2023
4/30: A special Radio Multe performance with Sara Gebran and her performative text Quantum Society. Also featuring Kjersti Sundland, Sidsel Christensen and me as collaborators.

2/23: Radio Multe live broadcast with members of Radio Pata, a station based in Cluj-Napoca, Romania. Radio Pata will be in Bergen at the invitation of BIT Teatergarasjen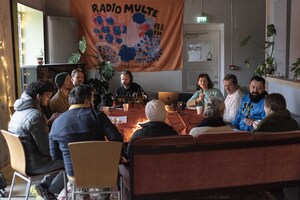 photo by Siavash Kheirkhah

2/22-24: Radio BAS, a non-extractive Radio Station cross-course workshop at Bergen Architecture School, part of their Big Wonderful Experiment towards design that does not extract or deplete materially, socially or culturally.

2/6-21: Residency at Bergen Senter for Elektronisk Kunst, Bergen NO
---
Summer & Fall 2022
11/24-25: Participating in Liisa-Ravna Finbog's workshop, "Indigenous Methodologies and Creative Practice," Tampere University, Finland.

11/18-19: With Shortwave Collective, teaching DIY radio Open Wave Receiver workshops at PikselFest in Bergen, Norway.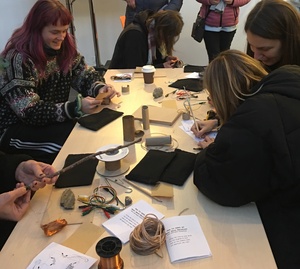 11/17: "Swimming in Butterflies" (2016) plays at In The Dark, London, curated by Phoebe McIndoe and Redzi Bernard.

10/24-26: Radio performance in Stavanger, Norway, part of the Norwegian Artistic Research Fall Forum.

9/20-22: Teaching "Performing Theory" workshop at Bergen Architecture School (BAS), Bergen, Norway.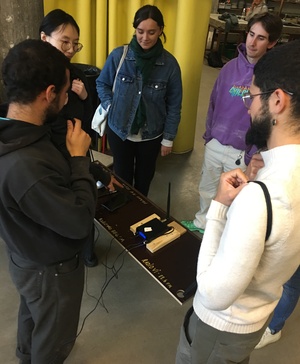 8/13: A Line Associated to Other Lines – Ricarda Denzer & Karen Werner's live Hörspiel is a postcard libretto as a score with a string, two speakers and Ontological Popsongs.

This is part of a 3 week Social Acoustics installation organized by Brandon LaBelle and Jill Halstead. Our performance is at Bergen Kjøtt, 8pm, and we are very excited for this collaboration.

7/3-8/1: Joining Røst AiR as a resident on the lighthouse island of Skomvær on the arctic cirlce with Sabine Popp, other humans, seaweed, wind....far off seals and puffins, too.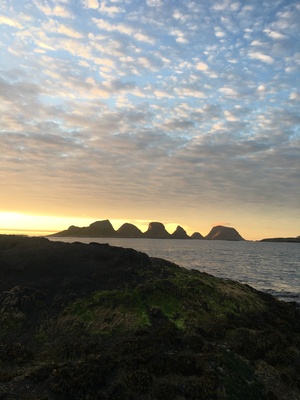 6/29: Artist talk, Penser avec les Pieds, at Das Kapital on Karl Marx Platz in Berlin, 8pm CET.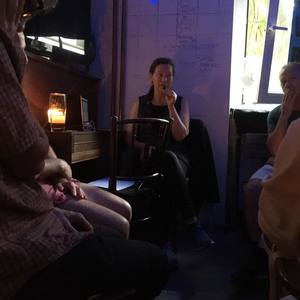 6/28: Braiding Radio with Kate Donovan on CoLaboRadio 88.4fm, 3-4pm CET, part of a day long transmission from Kate's gardenhouse on the outskirts of Berlin.

6/10-30: In Berlin and Kassel visiting community FM radio stations as forms of collectivity, thanks to a research grant from the Meltzer Fond.
---
Winter & Spring 2022
5/21: Radio Multe 93.8fm joins with Lakri FM for an afternoon broadcast in collaboration with Gåologi, a performance about walking and the city by Alwynne Pritchard and Eva Pfitzenmaier. We are turning an old ticket kiosk in Laksevåg into a radio station, 14.00-18.00.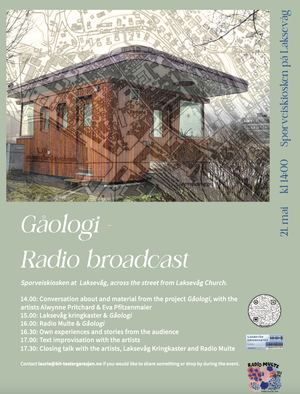 5/4: We Meet at Dusk, broadcasting from a boat at dusk, a radiophonic lullaby for the day by Kjersti Sundland, Sidsel Christensen and me. Listen at 93.8fm or radiomulte.live, part of Hordaland Kunstsenter's exhibition "We Meet at Dusk."

3/20: Radio Multe 93.8fm joins with Borealis' Resonating Nordnes. "Byen Vår/ Our City: Nordnes," a live oral history with Evy Sørensen by Anna Watson + Karen Werner, live music by Fabian Lanzmaier, 10.00-13.00.

3/11-14: Sounding Research, Angewandte, Vienna. A 3-day series of workshops and audio paper presentation organized by Ricarda Denzer. I will be giving a workshop and performing an audio paper about radio jamming.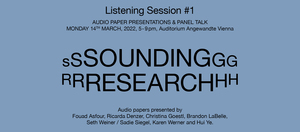 ---
Winer & Spring 2021
5/4-5/6: Re- radio: Radio Art's Evocations production course for BA and MA art students at KMD in Bergen

4/17: Who are you SkottegatenFM? Live radio performance and street party with DJ Simon Alejandro as part of Bergen Senter for Elektronisk Kunst (BEK) artist-residency-at-home. 16.00-18.00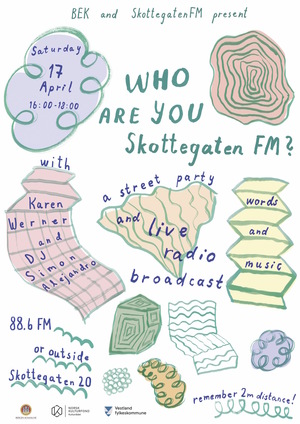 3/20: SkottegatenFM joins Borealis' Resonating Nordnes, a curated day of experimental sounds all over Bergen's Nordnes neighborhood. An extended SkottegatenFM braodcast with guests, commissions, neighbors and waffles. 10.00-16.00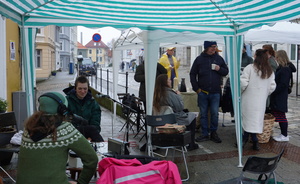 3/16 & 2/16: Artistic research presentations of re- radio and SkottegatenFM for KMD staff research seminar and DIKU's Artistic Research Spring Forum

3/11: Screening of radio-visual poem SkottegatenFM as part of Flickers and Frequencies in Philmont, NY.

2/12: Radio works included in Femkanje's Spaces of Togetherness exhibit at the Cultural Center in Belgrade and online. Femkanje is a Serbian feminist sound and podcast project of Bojana Knežević and Katarina Petrović

2/8: "Listening and Becoming through Sound: Audio Autoethnographic Collaboration as Critical Communication Pedagogy" by Dr. Deanna Shoemaker and me will be published in The Review of Communication, part of their special Re(sounding) Pedagogies Issue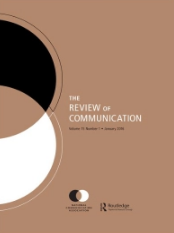 2/6: Launch of SkottegatenFM at 88.66FM, a 3-month FM micro-radio station transmitting from my apartment in Bergen and from the homes of neighbors. Listening station available at Hordaland Kunstsenter. Weekly schedules posted here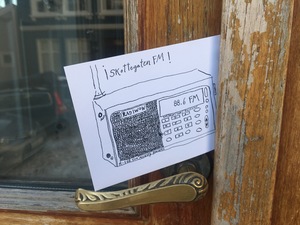 2/6: Beginning a work residency from home with the wonderful BEK (Bergen Senter for Elektronisk Kunst) to create SkottegatenFM.