Winter & Spring 2022
5/21: Radio Multe 93.8fm joins with Lakri FM for an afternoon broadcast in collaboration with Gåologi, a performance about walking and the city by Alwynne Pritchard and Eva Pfitzenmaier. We are turning an old ticket kiosk in Laksevåg into a radio station, 14.00-18.00.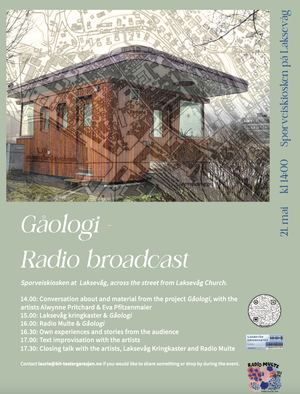 5/4: We Meet at Dusk, broadcasting from a boat at dusk, a radiophonic lullaby for the day by Kjersti Sundland, Sidsel Christensen and me. Listen at 93.8fm or radiomulte.live, part of Hordaland Kunstsenter's exhibition "We Meet at Dusk."

3/20: Radio Multe 93.8fm joins with Borealis' Resonating Nordnes. "Byen Vår/ Our City: Nordnes," a live oral history with Evy Sørensen by Anna Watson + Karen Werner, live music by Fabian Lanzmaier, 10.00-13.00.

3/11-14: Sounding Research, Angewandte, Vienna. A 3-day series of workshops and audio paper presentation organized by Ricarda Denzer. I will be giving a workshop and performing an audio paper about radio jamming.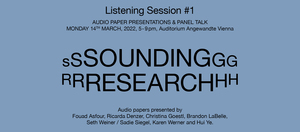 ---
Summer & Fall 2021
12/18: Broadcast begins of Radio Hopes & Dreams at Wave Farm occasionared by the arrival in NYC of a Norwegian ship doing climate research. Sabine Popp and I will share our piece about seaweed and listening.

11/21: Live from Radio Multe, a video live stream performance with Alwynne Pritchard relayed to Tonspur Kunstverein Wien and MQ21 in Vienna from the newly launched radio station in Bergen, 17.00-18.00 CET. Watch and listen here.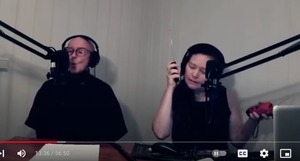 11/3-7: Air Conditions commission and participation on Seyðisfjörður Community Radio (107.1FM in eastern iceland) and Vers Libre (verslib.re). Alwynne Pritchard joins me live on air for a performance about being on air! Listen here.

9/22: Joining Ricarda Denzer's presentation, Para-Listening: How to Perform Remotely, Angewandte Performance Lab, Vienna. More info here.

9/10: Broadcast with Sabine Popp at 17.00 CET on Radio Hopes & Dreams, a mobile FM radio station in a van, part of Elin Már Øyen Vister's Lygalleriet and Bergen Kunsthall exhibition.

9/8 & 10/18: Working presentations of Bergen Community FM development at DIKU artistic research events.

9/8: Joining Brandon LaBelle's The Pirate Academy, setting up a mini-FM station at the Art Academy in Bergen.

8/31: Radio Tenthaus Takeover, imagining Bergen Community FM live on air with William Kudahl, Ebba Moi, Isak Ree and Kate Donovan. In Oslo, Norway at 105.8FM and online via InterFM beginning at 20.00 CET.

6/25-7/23: Artist-in-residence at Venø Gård KUNST on the island of Venøya on the West Coast of Norway, 5 hours north of Bergen by ferry.