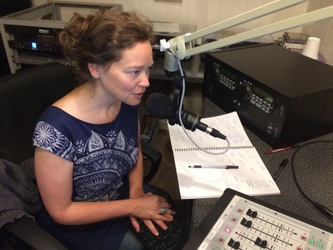 I am an artist and sociologist working with radio and communication.
I started with songs and
audio storytelling
, producing radio features for Australian Broadcast Corporation. Many of the audio stories I made were personal and linked to performance ethnography. I gave workshops, made radio pieces and wrote about
radio autoethnography
and
politics of storytelling
.
From 2016-2019, I developed
Strange Radio
in Vienna, informed by Avery Gordon's work on haunting, Marianne Hirsh's writing on Holocaust postmemory and Gloria Anzaldúa's writings on spiritual activism. Strange Radio includes five performance-broadcasts about language, ritual, time and the stranger. In Strange Radio, I discovered the
pleasures of the radio station
, thanks to Orange 94.0FM in Vienna.
I continued Strange Radio as sound installations at Vienna's MuseumsQuartier curated by Tonspur Kunstverein Wien. The sound installations,
Haus, part 1: Covenant of the Tongue
and
Haus, part 2: Zirkus
, relate to an apartment in Vienna where generations of my family lived. Haus involved many participants, including current residents of the building plus a number of artists and musicians in Vienna. Georg Weckwerth curated a group exhibition surrounding Haus at MAG3 in Vienna that was part of this extraordinary time and experience. Haus was co-commissioned by Österreicherischer Rundfunk's Kunstradio.
In 2018, I started a radio show called
Sketchpad,
a space for experimentation, on a small community station in western Massachusetts, WMCB 107.9FM. Using .2 watt FM transmitters I also set up temporary radio stations, including
WMTQ
, broadcasting from the cupola of the Montague Bookmill. The mini-FM transmitters led me into live performance, including an experimental documentary narrowcast,
Strange Radio, Live!
Since 2020, I have been in Bergen, Norway, doing a four-year artistic research fellowship in relational sound practices at the Bergen Art Academy (KMD). My practice includes making live performance broadcasts as well as assemblage essays, hörspiels and songs for radio. I often work collaboratively.
I also set up radio stations of varying durations and scales.
SkottegatenFM
was a mini-FM radio station transmitting daily from my dining room table for three months including street party broadcasts. Thanks to support from Bergen Kommune, in 2021 I launched a non-commercial, ongoing city-wide community AM + FM radio station called
Radio Multe 93.8FM
located at Damsgårdsveien 229 in the Laksevåg neighborhood of Bergen, close to the marine shipyard. We broadcast at select times. Inspired by multe (cloudberry), each program addresses in open, unexpected ways: what is community? What is communication?
In 2022 I joined the international feminist radio group,
Shortwave Collective.
Most recently I have been working with radio interference and created an unnamed shadow/ jamming radio station right next to Radio Multe.