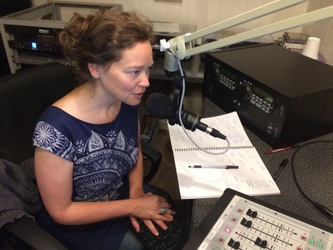 I am an artist and sociologist working with radio, sound, listening, words, voice and song.
I started with
audio storytelling
, producing radio features, including several for Australian Broadcast Corporation. A radio feature,
The Laws of Lost and Found Objects
, won the Grand Prix Marulić for radio documentary. Many of the audio stories I made were personal, and I saw links with performance ethnography. I gave workshops, made radio pieces and wrote about
radio autoethnography
.
From 2016-2019, I developed
Strange Radio
in Vienna, informed by Avery Gordon's work on haunting, Marianne Hirsh's writing on postmemory and Gloria Anzaldúa's writings on spiritual activism, inner and public repair and transformation. Strange Radio includes five performance-broadcasts about language, ritual, time and the stranger. In Strange Radio, I discovered the pleasures of the radio station, thanks to Orange 94.0FM in Vienna.
I was invited to continue Strange Radio as sound installations for a passageway at Vienna's MuseumsQuartier curated by Tonspur Kunstverein Wien. The sound installations,
Haus, part 1: Covenant of the Tongue
and
Haus, part 2: Zirkus
, are about a house in Vienna where generations of my family lived. Haus involved many participants, including current residents of the house plus a number of artists and musicians in Vienna. Georg Weckworth curated a group exhibition surrounding Haus at MAG3 in Vienna that was part of this extraordinary time and experience.
In 2018, I started a radio show called
Sketchpad,
a space for experimentation, on a small community station in western Massachusetts, WMCB 107.9FM. With .2 watt FM transmitters on hand, I also set up temporary radio stations in the U.S., including
WMTQ
, broadcasting from the cupola of the Montague Bookmill. The mini-FM transmitters led me into live performance, an experimental documentary broadcast installation,
Strange Radio, Live!
Since 2020, I have been living in Bergen, Norway, doing an artistic research fellowship in relational sound practices. I am drawn to feminist and indigenist approaches; at the heart of my art-making and artistic research is the question: what is relationality?
In Bergen, I am setting up radio infrastructures, systems of relating. For instance,
SkottegatenFM
was a mini-FM radio station transmitting daily from my dining room table for three months including street party broadcasts. Thanks to support from Bergen Kommune, a Bergen Community FM radio station will launch in an empty downtown storefront in 2021.
I continue to produce pieces for radio broadcast, including songs, inspired by Pauline Oliveros's deep listening practice: "If you are speaking, singing...or otherwise sounding, then you are sending. Are you receiving what you send and also receiving the whole of the time/space continuum of sound?"