Winter & Spring 2020
5/21: UnionDocs Radio Art Talk & Broadcast, Brooklyn, NY, culminating event of the 2019-2020 Wave Farm Radio Art Fellowship. Details coming soon.

4/18: Curating Listening In the Dark Radio Art Party, Wave Farm, Hudson, NY. All welcome! Splendor! Come in person or listen from afar, the evening will be live broadcast and streaming on WGXC 90.7fm.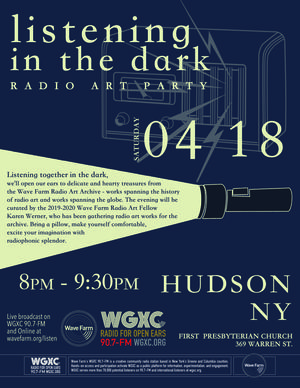 3/1 : Start of Artistic Research Fellowship at the Art Academy's Department of Contemporary Art, University of Bergen, Norway

2/4: Publication in Rethinking Marxism of "Imagining Loss," a collaboration with Serap Kayatekin